Compliance MSME
MSME Registration
Starting with Rs.

499

/-
Claim your access to Government Subsidies, Priority Lending and a quick start up.
6000+ Businesses Served
9.6/10 Unfiltered Customer Ratings
Satisfaction or Money Back Guarantee
Choose Your Package
Our flexible pricing options make it easy to get started.
Business Package
most used
Superfast process - within 12 hours
OVERVIEW
What is SSI MSME Registration?
To avail the benefits under the MSMED Act from Central or State Government and the Banking Sector, MSME Registration is required. MSME stands for micro, small and medium enterprises and any enterprise that falls under any of these three categories. Micro, Small and Medium Enterprises (MSME) sector has emerged as a highly vibrant and dynamic sector of the Indian economy over the last five decades.
On 13th may, 2020 Government of India announced some major relief to the MSMEs. And one of the major relief is that the Government Revised the definition of the MSMe as a whole.
Under the new definitions, the distinction between manufacturing and services enterprises has been eliminated and the investments have been revised upwards and additional criteria of turnover has been introduced.
What is the new & Revised definition of MSMe?
The new definition of MSMe is as follows:
Micro Enterprise:  Manufacturing and services enterprises with investments up to Rs 1 crore and turnover up to Rs 5 crore will be classified as micro enterprises.
Small Enterprise: For small enterprises, the investment criteria and the turnover criteria has been revised upwards to Rs 10 crore and Rs 50 crore respectively.
Medium Enterprise: The enterprises which have investment up to Rs 20 crore and turnover up to Rs 100 crore will be termed as medium enterprises.
Table showing existing and revised definition of MSMe: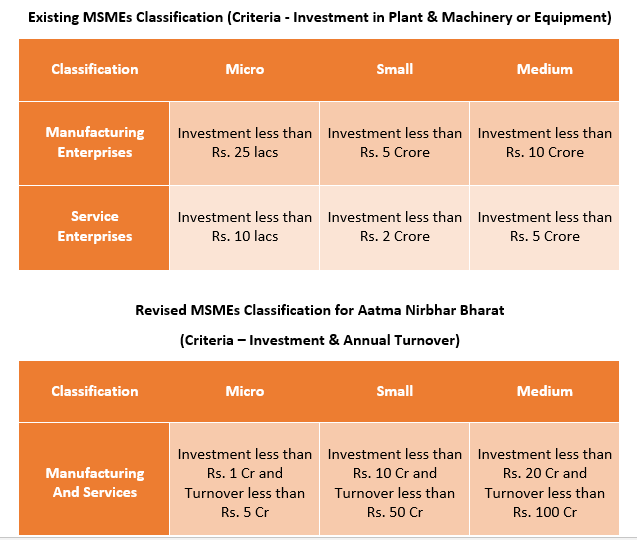 The new definition will benefit all the MSMes as they need not worry about growing in size; they will still be able to get quite a lot of benefits which otherwise, as an MSME, they have got.
This said new definition of MSMe is a welcome move for the promotion of the Atma Nirbhar Bharat Abhiyan by the Government of India.
Any Micro, Small and medium-sized enterprises in the manufacturing and service sector can obtain MSME Registration. MSME is used interchangeably with SSI, which stands for Small Scale Industries.
Though the MSME registration is not statutory, it is beneficial for business at it provides a range of benefits such as eligibility for capital investment subsidies, lower rates of interest,  tax subsidies, power tariff subsidies, and other support. You may also avail our executive package to obtain SSI registration / MSME registration within one working day.
compliancemsme.com is an eminent business platform and a progressive concept, which helps end-to-end incorporation, compliance, advisory, and management consultancy services to clients in India and abroad. Registering for SSI/MSME is easy, seamless, cheapest and quickest with compliancemsme.com!
Benefits
ADVANTAGES OF MSME REGISTRATION
Loan support to Micro. Small and Medium industry is promoted by the government through -distinctly prescribed norms. The registered entity would be able to get their loans passed at a lower rate of interest and with much ease because of the subsidized rates offered to MSME registrants.
Avail 50% rebate on TM application
Government fees on Trademark Application for entities such as Company, Partnership Firm and LLP are higher compared to individual and proprietorship firms. These entities may claim 50% rebate on the Government fees by submission of MSME registration certificate. Similarly, there is a rebate prescribed in Patent registration also.
Protection against Delayed payment of Buyers
MSME registered businesses enjoy protection against delayed payment of buyers. When the buyers have accepted the goods or services, they are liable to pay on time.
This is also known as Credit Guarantee Fund Scheme for Micro and Small Enterprises (CGTMSE). It is more supportive to small scale industries that provide the credit and income input from various sources to support industries which are under struggle.
Documents required
Documents Required for SSI MSME Registration
Scan photographs of all the Partners
Self-attested and color copy PAN Card of all the Partners
Self-attested and color copy ID Proof of all the Partners (Driving License/Passport/Voter ID)
Electricity Bill, Any other utility bill or Bank Statement for the address proof of the Registered Office (not older than 2 months)
Rent Agreement of Business Address, if any
ONLINE REGISTRATION
Obtain MSME registration In 3 Easy Steps
1. Answer Quick Questions
Spare less than 10 minutes to fill in our Questionnaire
Provide basic details & documents required for registration
Make payment through secured payment gateways
2. Experts are Here to Help
Application Preparation and Verification
Submitting the Application for Ministry of MSME
MSME registration certificate
3. Your MSME Registration is done!
All it takes is 3 working days*
*Subject to Government processing time
THE PROCESS
Process for MSME Registration online
Discussion and consultation for the requirement
Collecting the required documents
Day 2 - 3 Preparation and submission
Preparation and verification of Application
Registering the application with ministry of MSME
Certificate of registration under MSME
Frequently Asked Questions
EXPLORE ONLINE MSME REGISTRATION IN INDIA
Who Can Apply for MSME Registration?
Any entrepreneur having valid Aadhaar Number can apply for MSME Registration Online.
What is the Validity of Registration Certificate granted?
Provisional registration is valid for a period of 2 years from the date of its Issue. In case Unit is not set up during two years, an applicant may apply afresh and obtain a new provisional registration. Permanent registration is granted for a lifetime.
How is the value of plant & machinery computed?
It is computed as per the MSMED act and rules provided their under, but while computing the value of plant & machinery their original value is to be taken into consideration.
Is SSI/MSME Registration voluntary or mandatory?
The SSI Registration is only needed to avail subsidies and benefits. It is absolutely voluntary. Due to the various benefits attached to it, it is advisable for SMEs to obtain the same.
Can MSME Registration be revoked?
A Micro, small and medium Enterprises can violate the regulations in the following ways which will make it liable for de-registration:
a) It crosses the investment limits.
b) It starts manufacturing any new item or items that require an industrial license or other kinds of statutory license.
c) It does not satisfy the condition of being owned, controlled or being a subsidiary of any other industrial undertaking.
Is physical copy of Certificate will be issued?
In the interest of the environment, no physical copy of MSME Certificate will be issued. The government believes in paperless work.
Is Aadhaar Number mandatory for online MSME Registration?
At present, Aadhaar Number is mandatory for issuance of MSME Certificate.
Can I obtain MSME Certificate by applying myself?
Yes, you can very well do so by visiting Government website. It is free of cost.
What are the benefits of obtaining SSI/MSME Certificate?
For detailed benefits, refer benefit tab.
Which Cities do you provide your services?
compliancemsme.com provides SSI/MSME Registration all across India. You can obtain SSI/MSME registration in Ahmedabad, Mumbai, Pune, Bangalore, Chennai, Delhi, Kolkata, Kanpur, Nagpur, Jaipur or any other cities easily with us.
Still, have confusion?
Don't worry!! Our expert will help you to choose a best suitable plan for you. Get in touch with our team to get all your queries resolved. Write to us at support@compliancemsme.com or call us +91 7909997575.